Finland's path to NATO membership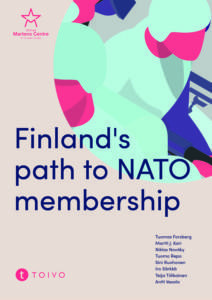 The spring of 2022 became a turning point in the Finnish defense and security policy. To accelerate the essential and topical NATO debate, this book provides insight into the stages of the application process as well as the pros and cons of potential membership.
We will explain what NATO is as an organization and how membership would change the security strategy of Finland, the Baltic Sea region, and the EU as a whole. We will also describe the changes in public opinion and political leadership.
Iro Särkkä: NATO's new mission in the 21st century
Tuomas Forsberg: The pros and cons, opportunities and threats of NATO membership
Teija Tiilikainen: What does the accession process look like?
Martti J. Kari: What does the accession process look like?
Tuomo Repo: From defense cooperation to a military alliance
Niklas Nováky: Finland's EU strategy as a member of NATO—what is changing?
Sini Ruohonen and Antti Vesala: Change in opinion on Finland's NATO membership in spring 2022
The Finnish version of the book: Suomen NATO-kevät 2022 
---
This is a joint publication of the Wilfried Martens Centre for European Studies and the Toivo think tank. The publication receives funding from the European Parliament. Wilfried Martens Centre for European Studies, the Toivo think tank and the European Parliament assume no responsibility for facts or opinions expressed in this publication or any subsequent use of the information contained therein. Sole responsibility lies on the authors of the publication. The processing of the publication was concluded in 2022.